Lady-in-Waiting and Lister's Mother

Mentions in Memoirs: Folio 224
Susanna was Martin Lister's mother and the only daughter of Sir Alexander Temple of Etchingham, Sussex.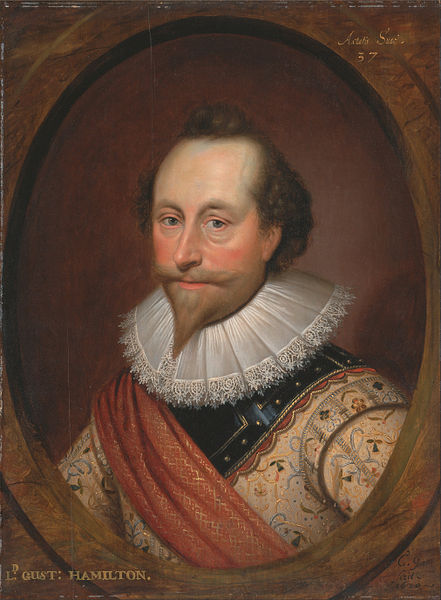 Before meeting Lister's father, Sir Martin Lister, she was married to Sir Gifford Thornhurst (1598-1627).  As a young lady, Susanna had been a maid of honour for Queen Anne of Denmark in James I's reign, and was considered one of the most distinguished beauties of her time.  Sir Martin Lister (Lister's father) may have met Susanna through his uncle Matthew Lister who served as a physician to Anne of Denmark.
There are numerous surviving portraits of Susanna, the earliest at the Tate, and it is a charming image by painter Cornelius Johnson (1593-1661).  Born in London to Flemish parents, Johnson trained in Holland, his numerous portraits of court society and rich gentry characterised by individuality and sensitivity.  One of Johnson's earliest works, his portrait of Susanna is in a head-and-shoulders format in an oval trompe l'oeil opening, painted to resemble a stone niche.  She was twenty when she sat for Johnson, and wore a delicate and high lace ruff, a feather fascinator in her hair, and her earring sported martlets, heraldic birds from the Temple coat-of-arms.  1
Susanna's frank appraisal of the viewer and lovely youthful energy that nearly bursts out of the confines of the portrait made it a popular image, Robert White reproducing her visage as an engraving.  Here is an example from the National Portrait Gallery. The engraving of Susanna appears in several collector's inventories, including Samuel Pepys' Library. 2  Pepys was known to have an eye for the ladies and collected the early modern equivalent of 'pin-up' girls.
Shortly after, Susanna was painted again, this time by the School of Gheerhaerts.  Standing on a costly 'Turkey carpet', she wore the same feather in her hair, and her costume was a rich red, red textiles being traditionally celebratory and a mark of high status. 3
There are several letters from Susanna to her son Martin, written whilst Martin was at St. John's College, Cambridge, with some undated correspondence possibly written when he was in France.  In his pocketbook, Lister notes several times when he wrote to his mother.  They had a close and affectionate relationship, Susanna sending the equivalent of early modern 'care packages' to her son when he was at Cambridge, including his favourite, venison pie, and a more elaborate goose pie with a 'duck in the belly'.
Karen Hearn, 'Cornelius Johnson', Grove Art Online, http://groveart.com. ↩
Robert A. Lantham and N.A. Smith, eds., Catalogue of the Pepys Library (Woodbridge, Suffolk:  Boydell and Brewer, 1994), 95-96, entry 2979/179b. ↩
Karen Hearn, Marcus Gheerhaerts II:  Elizabethan Artist in Focus (London, 2003), 46. ↩