Paul Pellisson-Fontanier, Paris, 1653 (Google Books)
Lister began his travelling reading programme on 13 September 1663, noting in his pocketbook: 'The History of the French Academy'. This was Paul Pellisson-Fontanier's acclaimed Relation Contenant l'historie de l'Academie Françoise (Paris, 1653), which served as the model for Thomas Sprat's History of the Royal Society (1667).
Pellison-Fontanier (1624-93) was a court secretary, historiographer and favorite of Louis XIV, whom he attended in his campaigns. His book resulted in him being elected a member of the Academy, which was formed in 1635, charged in its letters patent 'to labor with all the care and diligence possible, to give exact rules to our language, to render it capable of treating the arts and sciences'. To the present day, The Académie Française has remained responsible for the study and regulation of French language.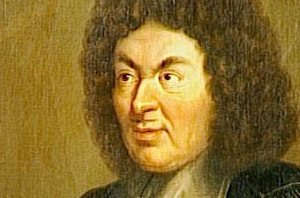 Pellisson-Fontanier's work was translated into English as The History of the French Academy, erected at Paris by the late famous Cardinal de Richelieu, and consisting of the most refined wits of that nation (London: J. Streater, 1657). The book itself was not a mere chronology, but contained some social commentary. Pellisson-Fontanier for instance stated with 'pointed circumstantiality' that Richelieu, the Academy's founding patron, enjoyed the applause of hired audiences with as enthusiastic delight as if it were real, voluntary applause. 1 Not only a book about institutions, it was a book about power.
Mirror of Taste and Dramatic Censor (Philadelphia:  Thomas Barton, 1811), 209. ↩