Gaius Suetonius Tranquillus, Amsterdam, 1650 (Google Books)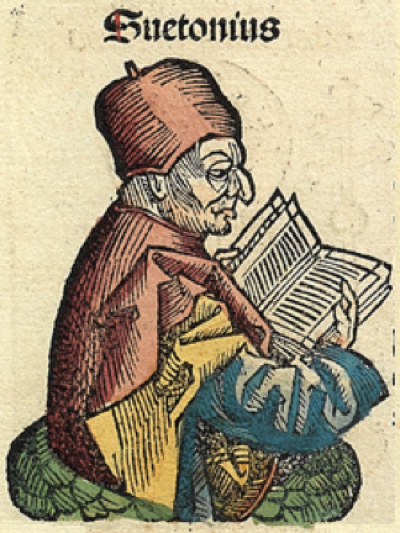 On 26 March 1664, Lister recorded reading:  'C. Suetonij Tranquilli duod. Caesares'.  This work is, of course, Suetonius's Twelve Caesars, and he may have perused one of several early modern editions.
The work consists of twelve biographies of Julius Caesar and the first eleven emperors of the Roman Empire.  As Hadrian's personal secretary, Suetonius was well placed to write such a work, which is characterized both by reliance on the  imperial archives for eyewitness accounts as well as upon other historians, and even gossip. Suetonius wrote in a racy, dramatic style, and his book is one of the most important sources that we possess for the development of the Roman Empire. Suetonius also influenced the 'development of early modern biography helping to end the medieval era of idealization, and fiction'. 1
Suetonius' work is still an inspiration for modern writers. Gore Vidal remarked in his essay 'Robert Graves and the Twelve Caesars':
Suetonius, in holding up a mirror to those Caesars of diverting legend, reflects not only them but ourselves . . .
Lister thus read this work not just for its historical content and entertaining style, but for its moral lessons.
Lister later donated a 1691 Latin edition of Suetonius to Oxford.
Josiah Osgood, ed. A Suetonius Reader:  Selections from the Lives of the Caesars and the Life of  Horace (Mundelein, Illnois:  Bolchazy-Carducci Publishers, 2011), xxvi. ↩