Marquis de Castries

Mentions in Memoirs: Folio 227
Élisabeth de Bonzi (1628-1708), Marquis de Castries, was the wife of Rene-Gaspard de Bonzi, the governor of Montpellier.  She was present at the salons which Lister attended in Montpellier.  He described her as a: 'person inferiour to none of her sexe for beauty, witt and breeding'.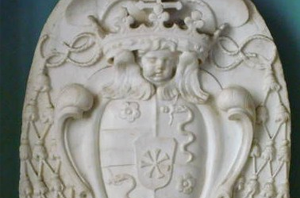 She was also the sister of Pierre de Bonzi, Bishop of Béziers (1628-59) ; Pierre de Bonzi was also ambassador to Venice, Tuscany, and Poland. Élisabeth and Rene-Gaspard were married in 1644, an alliance that bolstered the careers of the Bishop and the Marquis.
As William Beik stated,
Bonzi, who was serving as intermediary at court for Cardinal Mazarin's episcopal allies in Languedoc even before his appointment as bishop, was rapidly raised from bishop of Béziers (1659) to archbishop of Toulouse (1669), cardinal (1672), and archbishop of Narbonne (1673).  Castries, who had played a very minor role as baron of the Estates . . . and governor of Sommières (1646) became governor of Montpellier in 1660 . . . and lieutenant-general of Bas-Languedoc in 1668.  Bonzi interceded frequently for Castries, and the latter gradually became the spokesman for interests in Montpellier and the Court des Comptes. 1
The blason of her brother Pierre de Bonzi is displayed above.
See William Beik, Absolutism and Society in Seventeenth-Century France: State Power and Provincial Aristocracy in Languedoc (Cambridge: Cambridge University Press, 1985), 242. ↩