Fellow and Bursar, St John's College, Cambridge

John Peck (1639-82) was admitted as a sizar at St. John's College, Cambridge in 1655, receiving his BA in 1659/60, and his MA in 1663.  Peck was Lister's close friend.
Peck was an esquire bedell from 1669 to 1682, a junior ceremonial officer of a university, usually with official duties relating to the conduct of ceremonies for the conferment of degrees. He was made a fellow at St. John's in 1660, and it seems he was quite the bibliophile. The seventeenth-century shelflist of the library at St John's College lists books "'from Dr Gower bought out of Mr Peck's Library', giving author, title, number of volumes, format, and price. The total expenditure is given as 53 pounds and 9 shillings". See St John's College U.3, Shelflist of St John's College Library with a record of later donations and purchases.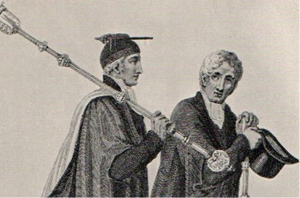 Lister mentioned letters to and from Peck in his pocket notebook, though the only extant ones date from 1674, well after Lister returned from France.  Peck's short biography is in Venn, Alum. Cantab., pt. 1, vol 3, p. 333