Lister's Niece

Agnes and Sir William Hartopp had a daughter, Dorothy or 'Doll' Hartopp, who engaged in lively correspondence with Lister whilst he was at St. John's College, Cambridge and in France.
In his pocketbook, Lister noted sending and receiving letters from his niece Doll in his pocketbook on several occasions. She was a sprightly young girl, quite social, and it is quite certain she adored her uncle and he, in turn, found her letters entertaining. In a letter of 19 February 1667/8, written to Lister when he had returned from France and was back at Cambridge, Doll stated:
Dear Uncle

Whith much impatience I haue long expec[t]ed what I have now receaued which was the happiness of a leter from you whearin you were pleased to say you lived in so malancolick a place 1 that you could not tell how to write so as to entertain me: but I asure you (dearest uncle) that what euer you write a leter from you is the wellcomest thing imaginable to me for though you are pleased to make so modest an excuse yet what ever you write does so much pase what I can possible return that I should not dare to giue the troble of a leter did I not know your goodness would pardon all failings: wee are very mery att my lady delafountane 2 but doe not goe so far as a courante or a french dance for being in the countrey we practis nothing but what in therin used: you giue me very great hope of seeing you here which I hope my grandfather 3 will not be so cruell as to frustrate and when we have that hapiness of you if you will condecent to Danse a country danse whith us we shall be for you: but I fear what whith very bad English and so much noncence as is here inserted I shall tire your patience. Therefore I will now subscribe my selfe as really I am your

Most affectioned neec[e] and humblest saruant

Dorothy Hartopp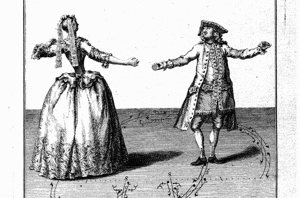 Doll mentioned learning the courante, a Triple meter dance from the late Renaissance and Baroque eras. The French courante was a moderately fast court dance for couples characterized by small, back-and-forth running and gliding steps. Learning the courante was considered a prerequisite to learning the minuet. You can watch a courante in this video, produced by Tönnheims Förlag and Regina Beck-Friis, and courtesy of www.dancilla.com:
For the men's part, the American Memory Collection at the Library of Congress provides this video. If instead, like Doll, you would rather learn a country dance, see Robert M. Keller's page about John Playford's The English Dancing Master (London, 1655).
Presumably his lodgings at St John's College, Cambridge. ↩
Dorothy Hartopp was living in Rotherby, Leicestershire.  Three miles away in Kirkby Bellars, Leicestershire, lived Sir Erasmus de la Fontaine (d. 1671) who was married to Mary Noel, the daughter of Edward Noel, second Viscount Campden.  Mary Noel may be the possible identity of 'Lady Delafontane' whom Hartopp was visiting.  See Charles Mosley, ed., Burke's Peerage and Baronetage, 106th edition, 2 vols (Crans, Switzerland: Burke's Peerage (Genealogical Books) Ltd, 1999), vol. 1, 229. ↩
Presumably Sir Martin Lister, Lister's father. ↩